Loraas Disposal
Regina - Organic Composting Collection Programs available for Apartments and Condos. Call 306-721-1000
Loraas Disposal is proudly Southern Saskatchewan's largest waste and recycling service provider, our reputation is based upon over 50 years of customer service and satisfaction. We offer waste, recycling and organics collection services, container rentals, construction waste removal and waste diversion options. Loraas services Southern Saskatchewan and South Western Manitoba.




Municipal Waste & Recycling


Loraas Disposal South Ltd. has been in the solid waste and recycling business in southern Saskatchewan since 1973. The company is 100% Saskatchewan owned and is Saskatchewan's leading hauler of recyclable materials and solid waste.
Our customers include the commercial, industrial, institutional and municipal sectors of the provincial economy and include over eighty percent of the top one hundred businesses and institutions in the Regina and Moose Jaw regions.
Main offices are located in Regina SK, with satellite facilities in Moose Jaw and Kennedy SK. Loraas provides "full service" to meet all our customers' requirements. We maintain a complete mechanical and fabricating shop in both our Regina and Moose Jaw locations and full-time mechanics at all 3 facilities.
We employ mechanics and welders to maintain our own equipment and that of our customers to the highest of industry standards and public safety. Our Moose Jaw and Kennedy locations include a recycling baling facility and sales/admin office with dedicated sales representatives working from those facilities.
Loraas Disposal has the equipment, quality support staff and safety record to ensure prompt, reliable waste and recycling transportation. We also provide services to comply with the LEEDS building certifications by aiding in meeting the qualifications by providing monthly reports and access to multiple recycling outlets. Loraas is also an approved hauler of recycled material for member municipalities of Multi-Material Stewardship Western (Province of Saskatchewan) and Multi-Material Stewardship Manitoba.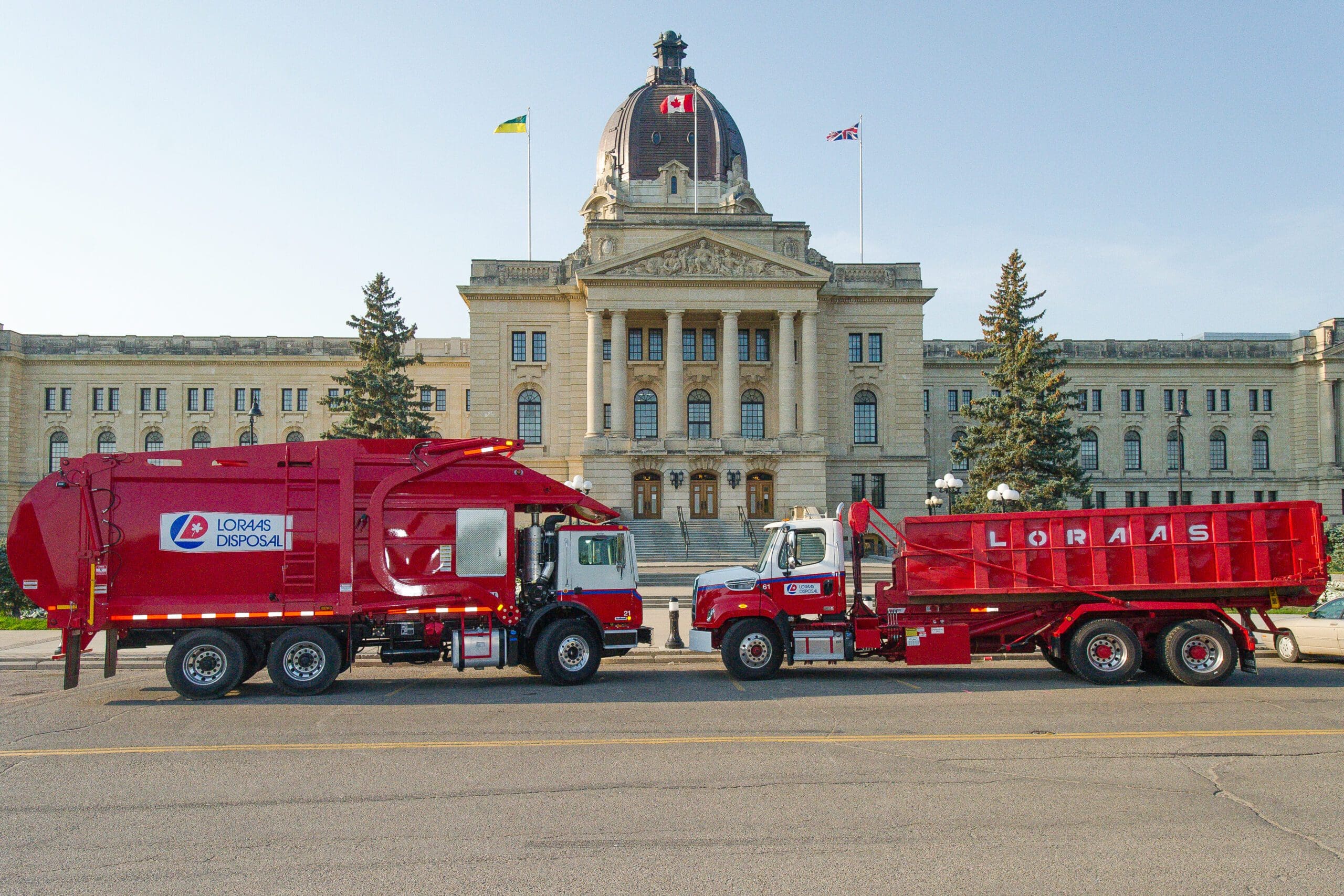 e-transfers now available
Loraas Disposal South has added e-transfers to our list of payment options.  
Send payments to ar@loraasdisposal.com
Payments will be "Auto Accept" so a password or security question is not required.
Please mention your customer number and/or invoice number when emailing your payment.  
TESTIMONIALS
What People Are Saying
Highly organized team handling multiple projects for us. Same day call out as well which is amazing for keeping a project going without a hiccup.
Loraas Disposal Ltd. has provided the Town of Strasbourg with garbage and recycling pickup for several years now, and they are nothing but helpful and responsive to all issues that may arise. Our rep Dale has provided us excellent service over the years and we are thankful for Loraas taking on the difficult logistical work of community waste and recycling removal and making it so easy for us. Many thanks!
Loraas and what we do, come hand in hand. They are always accommodating to what we need and when we need it. Their friendly staff make it a treat to call. Disposal usually doesn't have a pleasant touch on it, however, the Regina business makes it easy to integrate into our day-to-day. Highly recommend!
I have had nothing but wonderful experiences with Loraas, both as a rural resident and as the Town of Grand Coulee. My rep., Dale K, is more than helpful and always goes above and beyond. They are flexible, friendly, responsive and hard working. What more can you ask for in any service provider!